Barbara M Hodges
About Me
Barbara M Hodges lives on the central coast of California. She shares her life with her husband Jeff, two basset hounds, Ophelia and Hamlet, as well as with a sassy feline, Wallace.
Barbara is an avid NASCAR fan...go Carl Edwards, as well as a big Kansas City Chief's fan.
When she can find time away from writing she also enjoys dabbling in tole painting.
Barbara is the author, or co-author, of eight published fiction novels and has a story in the anthology, Scattered Hearts.
The first three books in her Daradawn series, The Blue Flame, The Emerald Dagger and The Silver Angel are going into their second edition. The three books have been re-written for the young adult market .
The Blue Flame, The Emerald Dagger and the Silver Angel are available now as ebooks from Desert Breeze Publishing. The Blue Flame has been released in print from Desert Breeze and The Emerald Dagger is set for release in February 2013.
Barbara's other books are, Ice and One Last Sin, co-written with Randolph Tower, Aftermath, Shadow Worlds, co-written with Darrell Bain, A Spiral of Echoes, co-written with Maggie Pucillo and Scattered Hearts an anthology by her local writer's group, the Santa Maria California Word Wizards.
To get your autographed copies,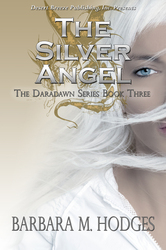 The Silver Angel, the thrid book in my Daradawn fantasy series for young adults has been released. Click on the book cover to order your copy.